DEFINING LIMITLESS LEADERSHIP
with insights from his latest book Super Brain
Prague, DOX+
Poupětova 1339/3, Praha 7
Only someone who can find wisdom in the midst of chaos will be remembered as a great leader.
Deepak is the Founder of The Chopra Foundation, Co-Founder of The Chopra Center for Wellbeing, is a world-renowned pioneer in integrative medicine and personal transformation, and is Board Certified in Internal Medicine, Endocrinology and Metabolism.  He is a Fellow of the American College of Physicians, Clinical Professor at UCSD Medical School, Researcher, Neurology and Psychiatry at Massachusetts General Hospital (MGH), and a member of the American Association of Clinical Endocrinologists. Additionally, Chopra also serves as Co-Founder of Jiyo, an Adjunct Professor of Executive Programs at Kellogg School of Management at Northwestern University and of Columbia Business School, Columbia University. The World Post and The Huffington Post global internet survey ranked Chopra #17 influential thinker in the world and #1 in Medicine. Chopra is the author of more than 85 books translated into over 43 languages, including numerous New York Times bestsellers.
For more information visit: www.deepakchopra.com
"My country has been enriched by the contributions of more than a million Indian Americans, which includes Dr. Deepak Chopra, the pioneer of alternative medicine."
"A renowned physician and author, Deepak Chopra is undoubtedly one of the most lucid and inspired philosophers of our time."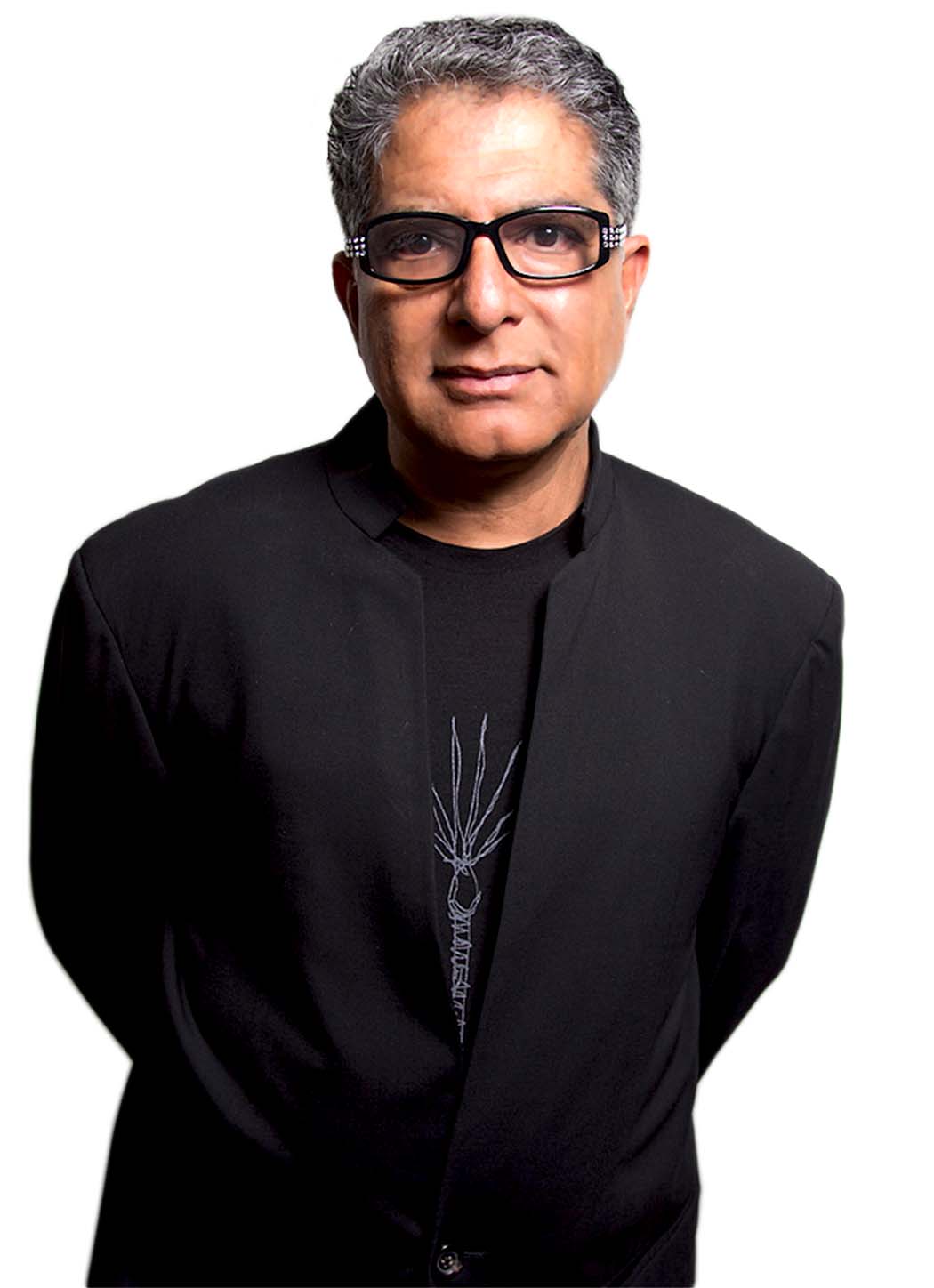 "The outcome of any situation is defined in advance by the vision
that goes into solving it.
Therefore inner qualities of leader determine all results."
In my opinion, good leadership and good networking go together really well. Networking as a modern and proven communication method and leadership as the ability to have a clear vision, to inspire, and to convince. We need and use both leadership and networking, but we need to improve and cultivate both of them.
Having done more than 2000 open mind events, I feel that the networking during our events is the strongest in Central Europe, as it creates new space for inspiring thoughts. Such thoughts are inspired by meeting excellent leaders and people, and Deepak Chopra is undoubtedly one of them. Deepak has accepted my invitation to Prague for the third time, and he shall share his knowledge and insights of leadership based on neuroscience.
Therefore, let us again meet, learn something new, and be inspired – hopefully not for the last time!
Content of the all-day training program
with Deepak Chopra
Deepak  will share insights from his latest work Super Brain which celebrates the golden age of neuroscience and takes things a step further - ushering us into a golden age for the individual's brain. He will merge cutting-edge research and age-old spiritual wisdom - linking  the latest breakthroughs in neuroscience with aspirations for health, well-being, and spiritual realization.
He will discuss how you can:
Use your brain instead of letting it use you.
Create the ideal lifestyle for a healthy brain.
Reduce the risks of aging.
Promote happiness and well-being through the mind-body connection.
Access the enlightened brain, the gateway to freedom and bliss.
Deepak believes  that "you won't know what your brain can do until you test its limits and push beyond them. No matter how inefficiently you are using your brain, one thing is certain: it is the gateway to your future. Your success in life depends on your brain, for the simple reason that all experience comes to us through our brains".
He will combine this information with the most fundamental principles for Limitless Leadership:
A leader is the symbolic soul of the group.
Inner qualities determine the outcome of any situation.
For every need, the right response can be found.
Great leaders can respond to all situations from the higher levels of spirit.
A leader focused only on external goals (money, victory, power) will fail.  Only those who aim to fulfill the lives of the members of their group will succeed.
What will you experience and what will you say?
"I often think of Deepak and his "Become What You Believe". I am grateful for people who remind us of what is truly important and who help us find responses to fundamental vital issues: Who am I? Why am I here? What is my mission? How to find inner balance and peace? The journey to the depths of our soul is not easy the time we live in is very complex. This is why it is so important not to lose oneself and to stay close to one's heart."
"We are living in a transformation period. Digital Age has begun, and it is fundamentally influenced by mobile gadgets and massive use of information and communication technologies. The environment as well as working environment have been changing. Deepak knows the recipe for finding balance between your professional life and your private life, and he can advise you on how to set and maintain the right work life balance."
"I have known Deepak Chopra for many years. We met first time in Microsoft, where Deepak was having seminar for Leadership team "Soul of Leadership". I believe Deepak changes thinking of many Microsoft leaders how to lead people. He is not only fantastic global spiritual leader. I also agree with my friend Gallup CEO Jim Clifton, who is saying: "Deepak is 20 years ahead of the others". I was very grateful when Deepak Chopra endorsed my book "The Positive Leader", because it was him who influenced my way of life and who like me believes that success and happiness can live together. I think Deepak's seminar is absolutely must for all of those who wants to be real leaders in 21st century."
"I discovered Deepak many years ago thanks to his book Seven Spiritual Laws of Success. The book influenced me deeply, as its principles can be used both one´s professional and personal life. I have read Deepak´s other books and I have followed him at Facebook. Deepak brings more meaning, peace and joy into my life. I had never thought I could meet him in person. The event in Lucerna Palace in Prague in 2014 was an awesome experience. From my point of view, no book or video can compare to the charm of sharing space with such an inspiring man and meeting him in person. I am thrilled that he is coming to Prague again. I cannot wait - it will be more than a lecture!"
"I am pleased that we are given the chance to meet Deepak Chopra in person. I have been following Depak's work in the long term, and I consider him one of the most interesting and inspiring people of our age. I was fascinated by his ability to interconnect ideas and to transform them into practical and easy-to-grasp instructions for a life balanced at all levels – spiritual, emotional, intellectual, physical and financial. I look forward to this exceptional meeting."
"I am thrilled my friend Deepak Chopra will join us again in Prague. Deepak's philosophy and counsel have had an important influence on the balance, fulfillment and successes in my life. His thoughts on the Soul of Leadership can truly make a difference in your life."
Time schedule
| | |
| --- | --- |
| 08:45 – 09:30 | registration, coffee break |
| 09:30 – 11:00 | training program – session 1 |
| 11:00 - 11:30 | coffee break |
| 11:30 – 13:00 | training program – session 2 |
| 13:00 – 14:30 | lunch |
| 14:30 – 16:00 | training program – session 3 |
| 16:00 – 17:00 | coffee break, DOX gallery tour |
| 17:00 - 17:30 | book signing |
| 17:30 - 20:30 | dinner and networking |
Enjoy your stay in beautiful city of Prague with our Private Concierge services. It is a practical and convenient way to help you save time, increase efficiency and revitalize your lifestyle. 
We are committed to providing you with tailor–made services at the highest possible level.
Jan Mühlfeit's invitation to the seminar
Video from the seminar in May 2016
When the final story is told, leadership is the most crucial choice one can make–it is the decision to step out of darkness. Only someone who can find wisdom in the midst of chaos will be remembered as a great leader. Yet matching needs and responses is our birthright, built into our brains as well as our spirit.  In conclusion, a leader may never find occasion to tell his followers why he has enriched their life or raised them to the level of the soul, yet in his heart he will know that he did those things for himself.  That is enough.  Wisdom traditions define truth as a single spark that burns down the whole forest. If the leader is willing to be that spark, others will see it within him. Craving direction, they will value what he offers, which is the first step toward valuing it in themselves.
Festival Evolution s.r.o.
Na louce 453/16, 109 00 Praha 10, Czech Republic
ID: 29028591, VAT ID: CZ 29028591
The company is registered with Prague Municipal Court section C, enclosure 161141
T: +420 222 311 108
M: +420 731 344 235
E: info@evolution.cz
www.felicius.cz
www.evolution.cz