Only someone who can find wisdom in the midst of chaos will be remembered as a great leader.
May 19, 2016
Prague, Břevnov Monastery
We would like to invite you and your team to an exceptional event
with an exceptional person, 
to an event which will unlock
your inner potential.
Experience a quantum leap – both yourself and your leaders.
Video from the seminar in May 2016
is the author of more than eighty books translated into over forty-three languages, including twenty-two  New York Times bestsellers in both the fiction and nonfiction categories. Deepak is the Founder of The Chopra Foundation, Co-Founder and Chairman of the Board of The Chopra Center for Wellbeing, Founder of The Chopra Well on YouTube, and serves as an Adjunct Professor at Kellogg School of Management at Northwestern University, Adjunct Professor at Columbia Business School, Columbia University, Assistant Clinical Professor, in the Family and Preventive Medicine Department at the University of California, San Diego, Health Sciences, Faculty at Walt Disney Imagineering and Senior Scientist with The Gallup Organization. The World Post and The Huffington Post global internet survey ranked Dr. Chopra #40 influential thinker in world and #1 in Medicine, TIME magazine has described Dr. Chopra as "one of the top 100 heroes and icons of the century and credits him as "the poet-prophet of alternative medicine." ​
For more information visit: www.deepakchopra.com
"My country has been enriched by the contributions of more than a million Indian Americans, which includes Dr. Deepak Chopra, the pioneer of alternative medicine."
"A renowned physician and author, Deepak Chopra is undoubtedly one of the most lucid and inspired philosophers of our time."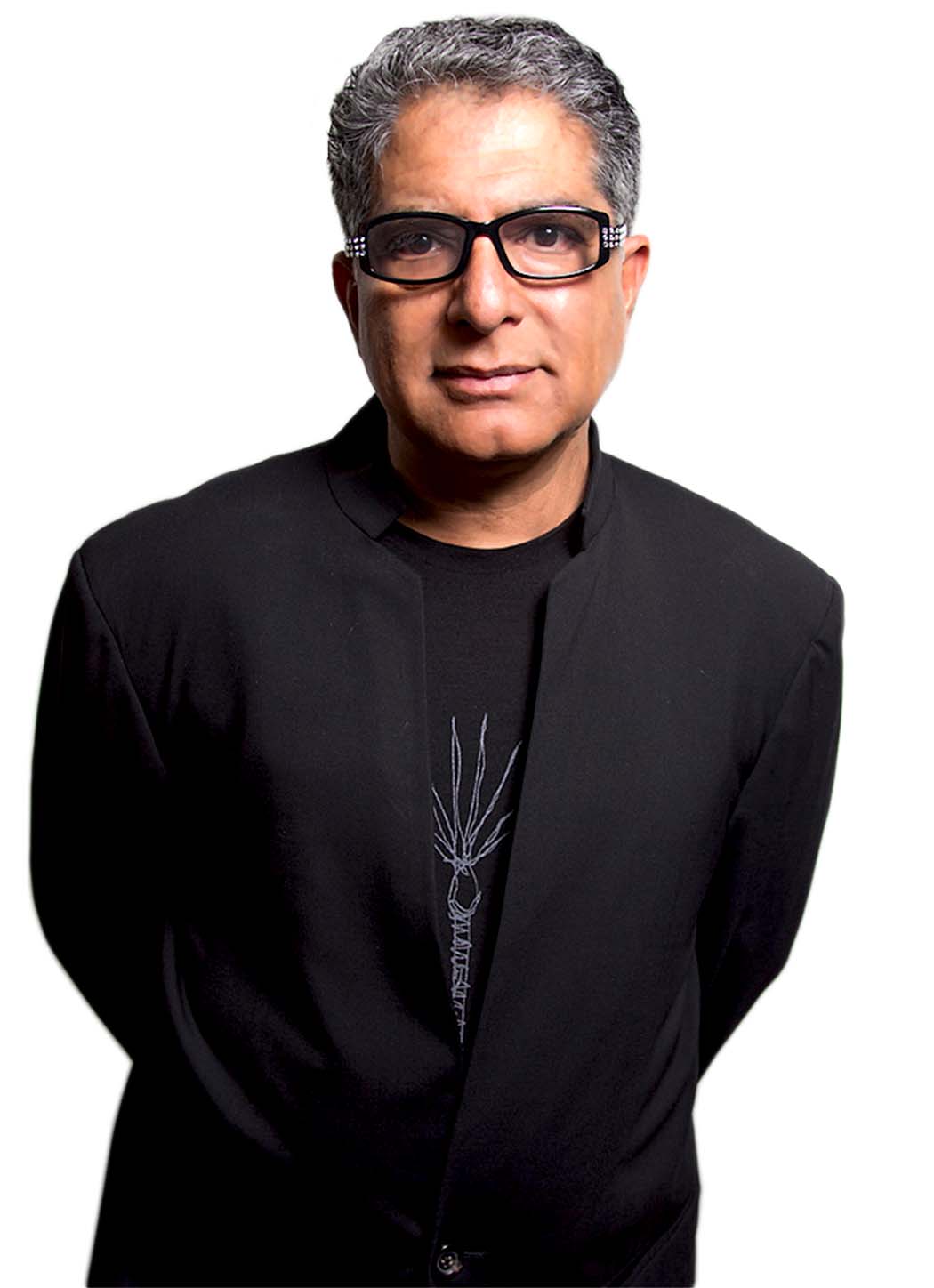 "Leader is the soul of the collective consciousness.
He or she bears the dreams and desires
of the people in the team,
in the community, in the nation.
His or her vision is not merely
his or her private vision.
True leader bears the visceral vision of the society".
Throughout history, people of great influence have always had their advisers and spiritual teachers,
so that they could lead better their people as well as themselves.
Unlike the rules of influence, times are changing. It has been proven that, that which does not grow, dies. Although growth may seem to be a gradual process, it is not the case.
Changes occurs in leaps - quantum leaps. Transformation occurs as a discontinuous change of state from one level to another.
Experience a quantum leap inside in order to witness a quantum leap manifest on the outside. Experience a quantum leap on your way to your leadership, on your way to your happiness
and the happiness of others.
Take yourself and your team on an unusual journey to the quantum event of the year:
The Soul of Leadership, and move both yourselves and your leadership to a new level.
What is it that you can look forward to?

Content of the all-day training
program with Deepak Chopra
From this program you will gain an increased awareness of your own needs and the needs of others. You will get a deeper understanding of your leadership potential so you can make a profound change in the way you lead. Chopra offers an entirely new approach to the exciting possibilities of leadership, incorporating the wisdom of his ground-breaking books on success that combine spiritual wisdom with modern dynamic psychology.
In The Soul of Leadership, Chopra shows us how we can apply these timeless truths to our lives by illuminating the characteristics of great leaders to outline the 10 Fundamental Principles all leaders should follow.
The following acronym details concisely the abilities
and characteristics of a great leader:
L = Look and listen. Creating a vision based on the needs and responses of your group. E=Empowerment. Motivating yourself and your team.
A = Awareness. Knowing what you want out of a situation as well as what  others want.
D = Doing. Being action-oriented as a role model.
E = Emotional freedom and empathy. Understanding the deeper needs of the team, and seeing beyond competitiveness, fear, and emotional toxicity.
R = Responsibility. Showing initiative, taking mature risks, and living up to your inner values.
S = Synchronicity. Connecting any need with an answer from the soul.
The 10 Fundamental Principles include:
A leader is the symbolic soul of the group.
Inner qualities determine the outcome of any situation.
For every need, the right response can be found.
Great leaders can respond to all situations from the higher levels of spirit.
A leader focused only on external goals (money, victory, power) will fail.  Only those who aim to fulfill the lives of the members of their group will succeed.
What will you experience and what will you say?
"I often think of Deepak and his "Become What You Believe". I am grateful for people who remind us of what is truly important and who help us find responses to fundamental vital issues: Who am I? Why am I here? What is my mission? How to find inner balance and peace? The journey to the depths of our soul is not easy the time we live in is very complex. This is why it is so important not to lose oneself and to stay close to one's heart."
"We are living in a transformation period. Digital Age has begun, and it is fundamentally influenced by mobile gadgets and massive use of information and communication technologies. The environment as well as working environment have been changing. Deepak knows the recipe for finding balance between your professional life and your private life, and he can advise you on how to set and maintain the right work life balance."
"I am thrilled my friend Deepak Chopra will join us again in Prague. Deepak's philosophy and counsel have had an important influence on the balance, fulfillment and successes in my life. His thoughts on the Soul of Leadership can truly make a difference in your life."
"Although I have all my life been meeting the greatest figures and masters of personal and spiritual growth, I must admit that there are not many authorities worldwide to whom I truly listen. However, thousands of readers of my books and thousands of participants in my seminars are aware that Deepak Chopra belongs to those whom I most frequently quote. Personally, I feel great degree of gratitude towards him; his philosophy is my cup of tea. For me, he has been like a lighthouse, bringing light, purity, understanding, relief, forgiving, reconciliation, and peace into my life. And most of all, great joy :-)"
"I am pleased that we are given the chance to meet Deepak Chopra in person. I have been following Depak's work in the long term, and I consider him one of the most interesting and inspiring people of our age. I was fascinated by his ability to interconnect ideas and to transform them into practical and easy-to-grasp instructions for a life balanced at all levels – spiritual, emotional, intellectual, physical and financial. I look forward to this exceptional meeting."
ENTRANCE FEE FOR THE EVENT
"QUANTUM"
907 EUR
excl. VAT
1x all-day training program
conference kit
refreshment
Should you have any questions regarding tickets, please contact us: info@feliciusmedia.cz
Time schedule
08:45 – 09:30     registration, coffee break
09:30 – 11:00     training program – session 1
11:00 - 11:30      coffee break
11:30 – 13:00      training program – session 2
13:00 – 14:30      lunch
14:30 – 16:00      training program – session 3
16:00 – 16:30      book signing, coffee break
WHO HAS ALREADY CONFIRMED THEIR PARTICIPATION
When the final story is told, leadership is the most crucial choice one can make–it is the decision to step out of darkness. Only someone who can find wisdom in the midst of chaos will be remembered as a great leader. Yet matching needs and responses is our birthright, built into our brains as well as our spirit.  In conclusion, a leader may never find occasion to tell his followers why he has enriched their life or raised them to the level of the soul, yet in his heart he will know that he did those things for himself.  That is enough.  Wisdom traditions define truth as a single spark that burns down the whole forest. If the leader is willing to be that spark, others will see it within him. Craving direction, they will value what he offers, which is the first step toward valuing it in themselves.
Agentura Felicius s.r.o.
Na louce 453/16, 109 00 Praha 10, Czech Republic
ID: 02664275, VAT ID: CZ 02664275
The company is registered with Prague Municipal Court section C, enclosure 222184
T: +420 222 311 108
M: +420 731 344 235
E: info@felicius.cz
www.felicius.cz
© 2015 TheSoulOfLeadership.cz  - All rights reserved